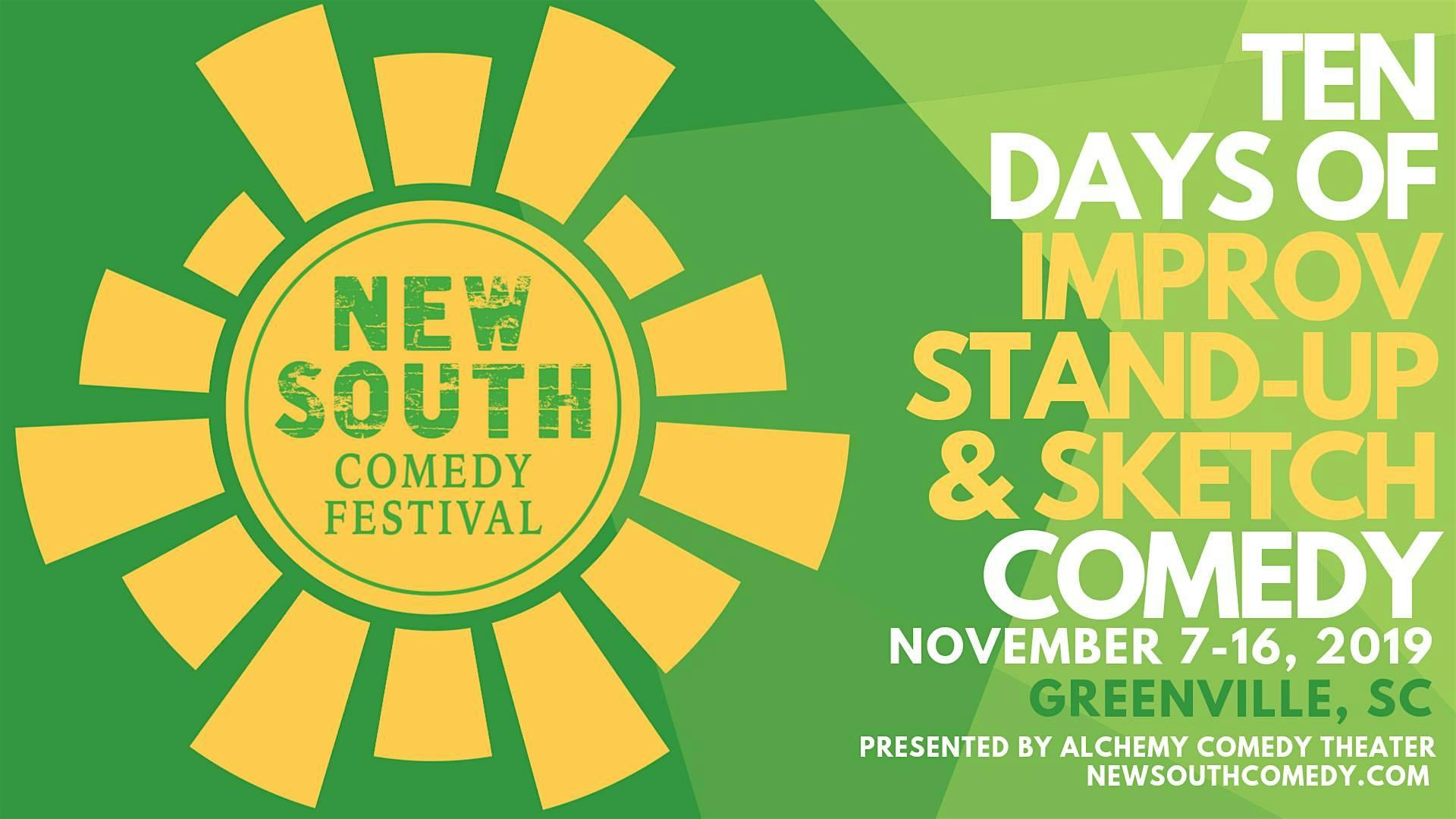 IMPROV COMEDY featuring Jarn & Karl, Abraham, and Orange Tuxedo
Saturday November 16, 2019 from 9:00 PM to 10:15 PM
New South Comedy Festival
10 days. 10 workshops. 24 shows. 250 performers! From November 7-16th, improvisors, stand-up comedians, and sketch comedy guests from across the country will converge on Greenville, SC for the 6th Annual New South Comedy Festival. 
Seating is limited, so it's always wise to pre-purchase your tickets online. All shows will be at the Alchemy Comedy Theater in downtown Greenville, SC. Street parking is available (if you're lucky), along with several nearby parking garages.
Comedy workshops will be held on Friday, Saturday, and Sunday on both weekends.


---
IMPROV COMEDY featuring Jarn & Karl (Atlanta, GA), Abraham (Greenville, SC), and Orange Tuxedo (Los Angeles, CA)
Jarn & Karl are best friends since birth. They have struggled, laughed, wept, danced, fought and rejoiced their way through a decade and half of friendship. Their performance embodies strong relational exploration in a patient and unpredictable manner. They shed light on all facets of personal relationships and the emotions exhibited therein. 
Abraham performs the classic improv long form known as the Deconstruction, but with a little added flavor.  Cast includes: Manus Clancy, Lindsay Heyman, Chris Freeland, Jake Sharon, Callie Sharon, and Steven Crane.
Orange Tuxedo is a two person improv show from a husband and wife team who, collectively, have been doing improv for seven hundred years. The perform "Close Quarters", with a focus on creating grounded relationships formed by eccentric characters. If you like comedy, you may have seen Craig Cackowski wear various mustaches and costume pieces on Comedy Central's Drunk History. If you like drunken history, you may have seen Carla Cackowski drink various beers on Instagram. They perform regularly at The Second City in Hollywood and recently traveled to Austin for the Out of Bounds Comedy Festival (2015), SF Sketchfest (San Francisco 2016, 2017, 2018), Phoenix Improv Festival (2016), Del Close Marathon (NYC 2016), Stumptown Improv Fest (Portland 2016, 2017), Detroit Improv Festival (2016, 2017), IF Cincinnati (2016), Denver Improv Festival (2016), Providence Improv Festival (2017), Orange County Improv Fest (2017, 2018), San Francisco Improv Festival (2017), Seattle Festival of Improvisation (2018), and London, UK (2016).
---