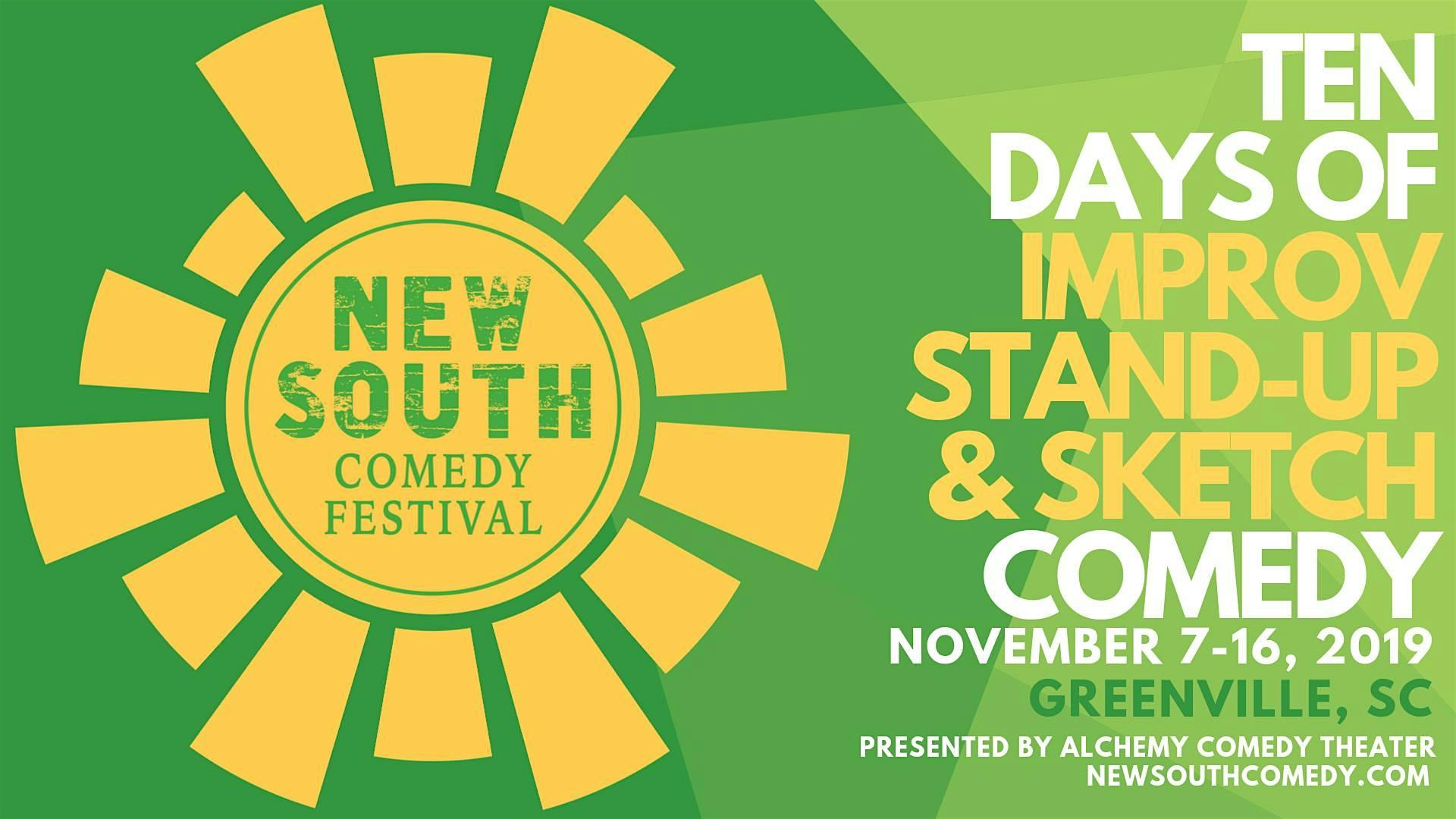 MID-FESTIVAL FINALE featuring Emily Via, Cordero Wilson, Mattea Greene, and Local Legends All-stars
Saturday November 9, 2019 from 10:30 PM to 11:59 PM
New South Comedy Festival
10 days. 10 workshops. 24 shows. 250 performers! From November 7-16th, improvisors, stand-up comedians, and sketch comedy guests from across the country will converge on Greenville, SC for the 6th Annual New South Comedy Festival. 
Seating is limited, so it's always wise to pre-purchase your tickets online. All shows will be at the Alchemy Comedy Theater in downtown Greenville, SC. Street parking is available (if you're lucky), along with several nearby parking garages.
Comedy workshops will be held on Friday, Saturday, and Sunday on both weekends.


---
 MID-FESTIVAL FINALE features a mix of stand-up, sketch, and improv from Emily Via (NYC), Cordero Wilson (NYC), Mattea Greene (LA), sketch sampler, and  Alchemy's Local Legends All-stars

Emily Via is a New York based comedian. She has performed at the Broadway Comedy Club, the Duplex, the Tank, Upright Citizens Brigade, and the Second City. She has also worked regionally because she can also sing and dance, but obviously prefers to be doing stand up about how she's dying alone on her L shaped couch. Frequently mistaken as Joseph Gordon Levitt's younger sister, she is actually the love child of Abbi Jacobson and Ilana Glazer. @viavaciouss
Cordero Wilson grew up as a progressive, biracial, overweight nerd living in the small-city south, which was not a "thing" back in the 1990's. Now based in New York, Cordero brings his story & point-of-view to life through jokes infused with singing, dancing, and exquisite unseen plot twists, on topics ranging from the pitfalls of teaching Huckleberry Finn in North Carolina junior highs to his Dragonball Z addiction. Cordero has performed for the Harlem, Oak City, NC Comedy Arts, & Cape Fear Comedy Festivals, and has featured for headliners in clubs and alt rooms around the southeast & west including Kyle Kinane, Big Jay Oakerson, Ali Siddiq, Sean Donnelly, Matt Branger & Rory Scovel.  
Mattea Greene is a stand up comedian and television writer from Los Angeles. She has written for Cobra Kai on YouTube Premium.

Local Legends is the Alchemy Comedy Theater's flagship weekly improv show. Every week, a different local legend (person of note) tells their own local legends (personal stories) to inspire this fully improvised show. This special event will feature players and storytellers from across the country!
---