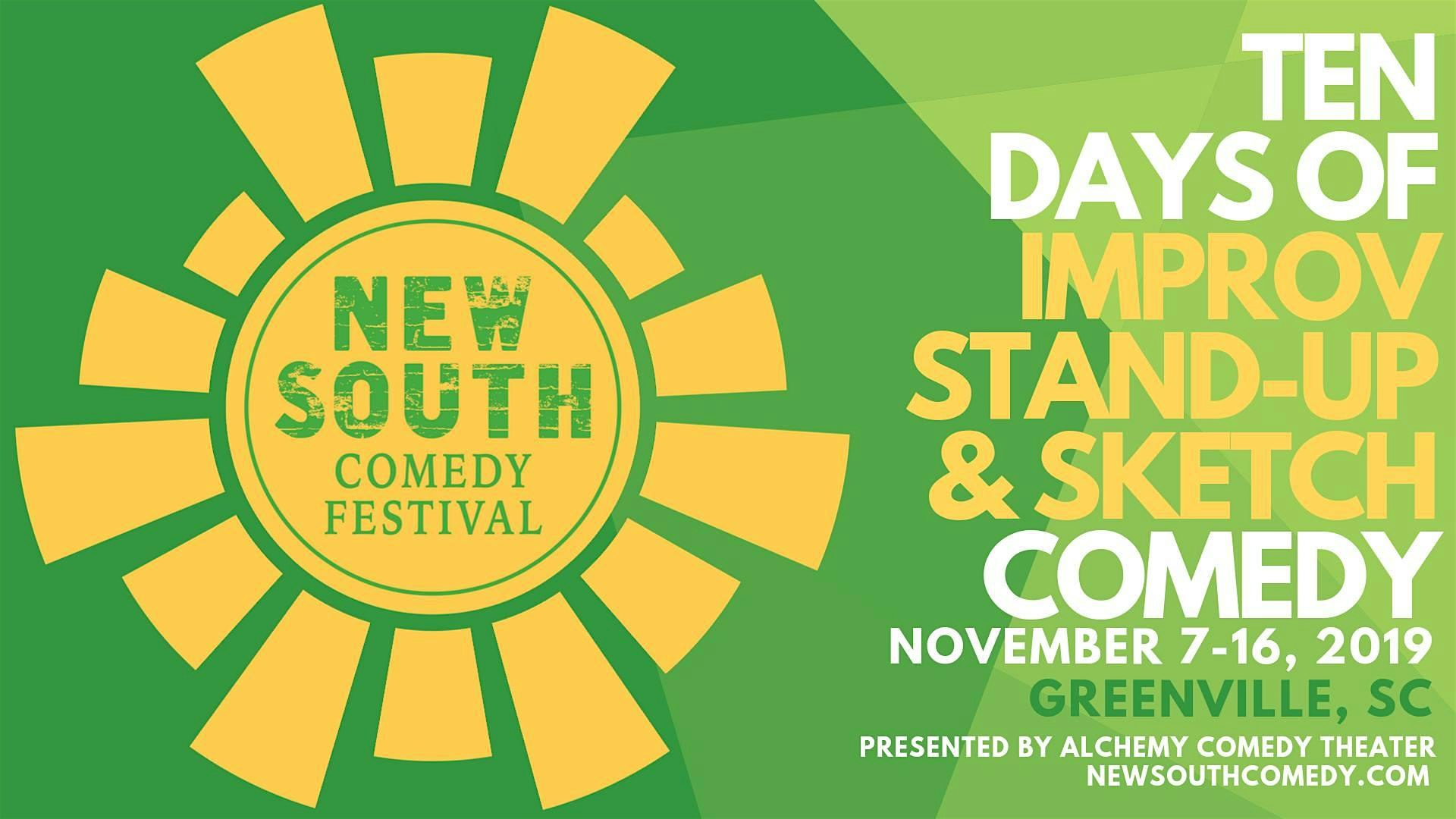 IMPROV COMEDY featuring Improv Charlotte, Wolfsredel, and Four First Names
Saturday November 9, 2019 from 9:00 PM to 10:15 PM
New South Comedy Festival
10 days. 10 workshops. 24 shows. 250 performers! From November 7-16th, improvisors, stand-up comedians, and sketch comedy guests from across the country will converge on Greenville, SC for the 6th Annual New South Comedy Festival. 
Seating is limited, so it's always wise to pre-purchase your tickets online. All shows will be at the Alchemy Comedy Theater in downtown Greenville, SC. Street parking is available (if you're lucky), along with several nearby parking garages.
Comedy workshops will be held on Friday, Saturday, and Sunday on both weekends.


---
IMPROV COMEDY featuring Improv Charlotte (Charlotte, NC), Wolfsredel (Chapel Hill, NC), and Four First Names (Orlando, FL)

Improv Charlotte's mission is to serve our community through comedy by creating inclusive, family-friendly improv that benefits our neighbors throughout the Charlotte area. Our dedicated team of improvisers use our comedic gifts to bring joy to our fellow humans through both interactive and entertaining performances as well as supporting local charity organizations.  Cast includes: Blake Edwards, Cale Evans, Jen Jamsky, Deanna Lee, and Gabby Moore.
What happens when slow grounded scene work hits high energy characters? You end up in a Wolfsroedel. Corey Brown (UCB) and Jenn Bianchi (Alchemy Alum) both teach at PIT-Chapel Hill and are delighted to bring this delightful show to South Carolina! 
With more than 30 combined years' experience acting, hosting and teaching improv, Richard Paul and Chris Barry team up with musical director Ryan Goodwin to make up the troupe Four First Names out of Orlando, Florida. They have appeared in multiple cities and festivals all across the U.S. performing a musical long-form set called The Aftermath and additional narrative long-form sets.
---