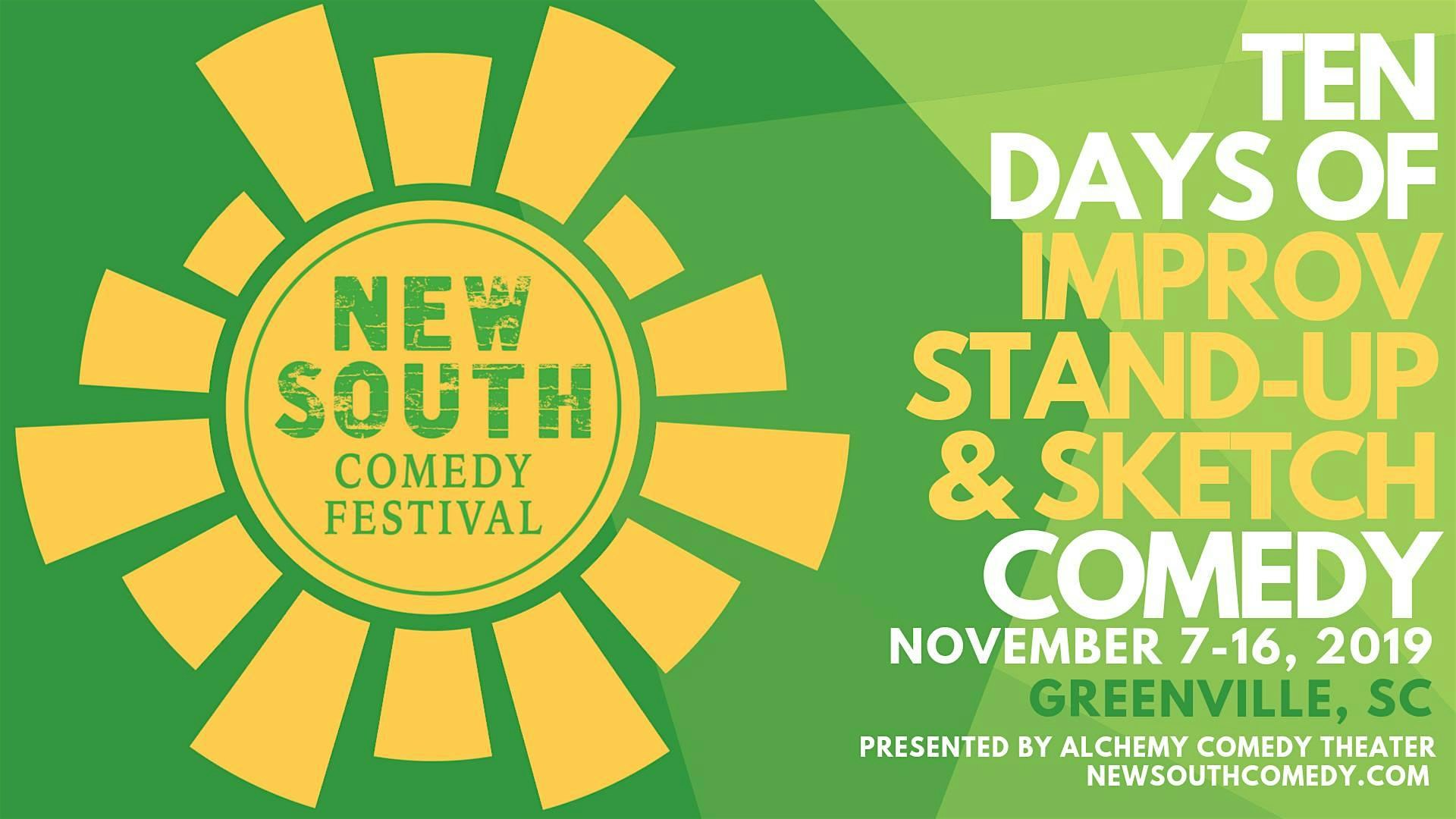 STAND-UP and IMPROV COMEDY featuring Adrian Harris, Vickie Plummer, Andrew Cornelius, and Local Legends All-stars
Friday November 8, 2019 from 9:00 PM to 10:00 PM
New South Comedy Festival
10 days. 10 workshops. 24 shows. 250 performers! From November 7-16th, improvisors, stand-up comedians, and sketch comedy guests from across the country will converge on Greenville, SC for the 6th Annual New South Comedy Festival. 
Seating is limited, so it's always wise to pre-purchase your tickets online. All shows will be at the Alchemy Comedy Theater in downtown Greenville, SC. Street parking is available (if you're lucky), along with several nearby parking garages.
Comedy workshops will be held on Friday, Saturday, and Sunday on both weekends.


---
STAND-UP and IMPROV COMEDY features comedians Adrian Harris (Springfield, VA), Vickie Plummer (New York, NY), and Andrew Cornelius (Los Angeles, CA) sharing the stage with Alchemy's Local Legends All-stars.

Adrian Harris is a stand up comedian based out of Northern Virginia returning to the festival for his second year. He is a graduate of the D.C. Improv's "Five Minutes to Funny" comedy school and has been performing in the Virginia, Washington, D.C. and Maryland area for over 2 years. His comedy material reflects upon personal life experiences; from being bi-racial, to growing up in a single parent household and being married. He is the founder of Laugh Local Comedy, LLC which produces the monthly "Punchlines At Paradiso" stand up comedy showcase in Alexandria, Virginia featuring both local and professional comedians.
Vickie Plummer declared at the age of ten that she wanted to be a stand up comedian. She was always repeating bits from The Carol Burnett Show and pretending to be one of her favorite comedians as she ran around her parent's house in rural New Hampshire spouting off comedy routines about growing up in New York City in the 1970's (like she had written the bit and not Eddie Murphy!) while making people laugh yet still wanting to pull their hair out. 
The dream became a reality in the early 2000's as she performed in clubs, restaurants, bars, and once even on the street, in New York City for six years. She took a 12 year hiatus and returned to her passion of stand up comedy in January 2019. She was a Semi-Finalist in the Empire State Stand Up Showdown this July, performed at the Baltimore Comedy Festival in August, and has been selected to perform in the Road to Billtown Comedy Festival Comedy Competition in PA in October. Vickie is a fighter and has battled her way back from cancer and other life threatening medical issues and uses humor to poke fun at the weird and crazy things that have shaped her life. She's always ready to have a good time and to make audiences laugh and say "I can relate! I do the same thing!"

Andrew Cornelius gave up the drudgery of upper management to live out his dreams of being a comedian. Ten years later, he is still going strong. Starting in Chicago, Andrew learned improv from Second City and integrated it into his stand up comedy in New York and Los Angeles. He hosts "Just Eat It!," a restaurant review show for Intrigue.TV and available on YouTube. Andrew also plays "Coach Scalp" on the upcoming Nick, Jr. show: Platty & Jackie. His face and voice have appeared in some of your favorite commercials.  

Local Legends is the Alchemy Comedy Theater's flagship weekly improv show. Every week, a different local legend (person of note) tells their own local legends (personal stories) to inspire this fully improvised show. This special event will feature players and storytellers from across the country!
---