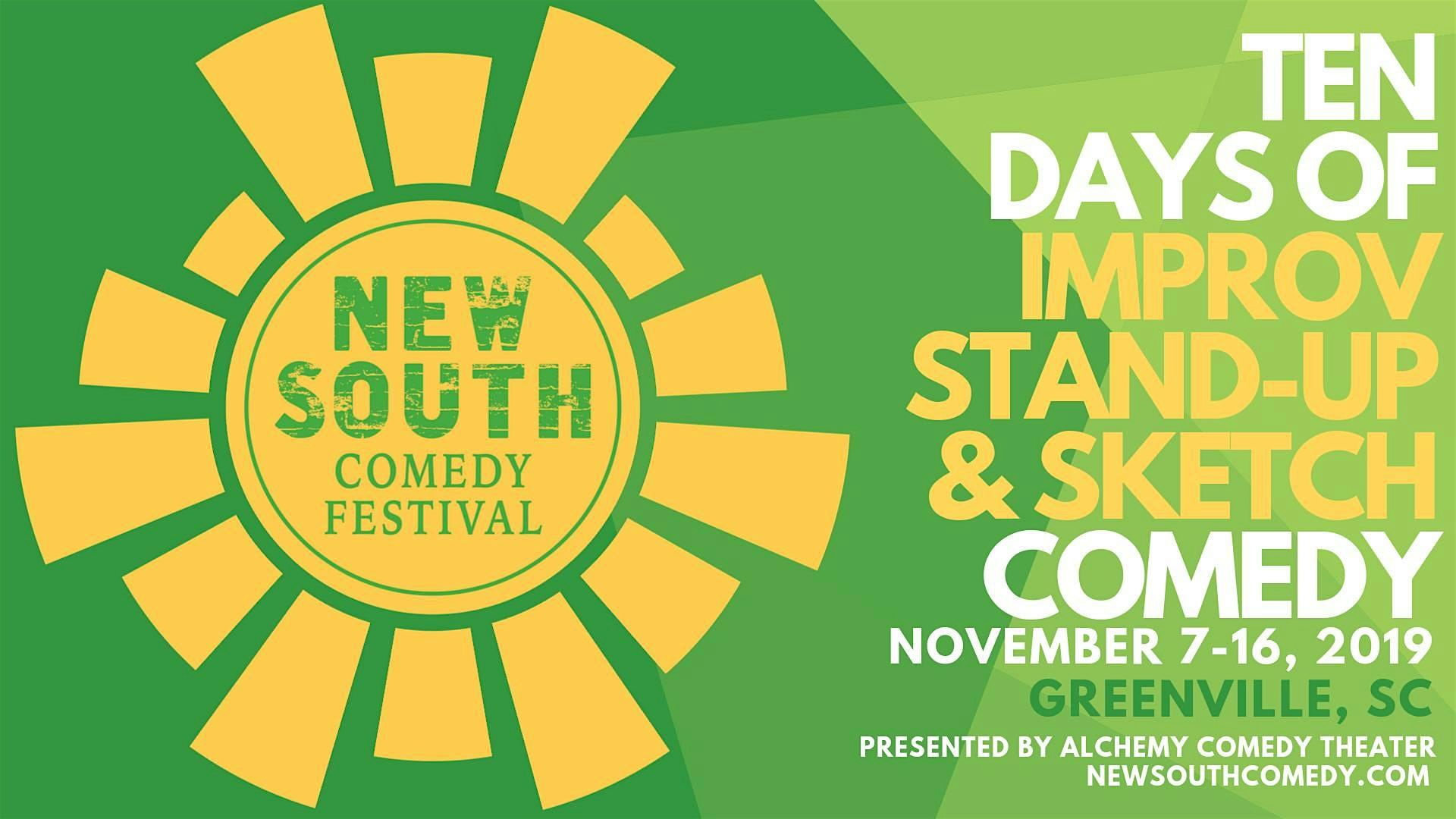 STAND-UP COMEDY featuring Ray Jubela, Alex White, Kat Belinfante, Abby Washuta, and Joel Byars
Friday November 8, 2019 from 7:30 PM to 8:45 PM
New South Comedy Festival
10 days. 10 workshops. 24 shows. 250 performers! From November 7-16th, improvisors, stand-up comedians, and sketch comedy guests from across the country will converge on Greenville, SC for the 6th Annual New South Comedy Festival. 
Seating is limited, so it's always wise to pre-purchase your tickets online. All shows will be at the Alchemy Comedy Theater in downtown Greenville, SC. Street parking is available (if you're lucky), along with several nearby parking garages.
Comedy workshops will be held on Friday, Saturday, and Sunday on both weekends.


---
STAND-UP COMEDY featuring Ray Jubela (Gaithersburg, MD), Alex White (Satsuma, AL), Kat Belinfante (Brooklyn, NY), Abby Washuta (Hoboken, NJ), and Joel Byars (Atlanta, GA)


Ray Jubela is a Washington DC based comedian who grew up idolizing George Carlin, and dreamed that one day he would be on stage bringing the laughter. While that dream was not realized until he was in his late 40's, he has made up for lost time by being to be one the hardest working comics in the DC/Maryland/Virginia area. Ray is a big guy with a big heart, and an even bigger body! He has appeared at the DC Improv, Broadway Comedy Club (NYC), New York Comedy Club (NYC), Greenwich Village Comedy Club (NYC), Church of Satire Comedy Club (PA) and the Finger Lakes Comedy Festival (Ithaca, NY). 
Originally from Alabama, Alex White has been performing stand-up comedy for just over three years. He came to New York for college, where he began regularly going to open mics around the city. He soon began hosting Memento Mori—a show in the basement of a church featuring both professional comedians and new student performers alike. Building his talent led to him winning a residency at Broadway Comedy Club, a premiere club in midtown Manhattan. On Columbia's campus, Alex is heavily involved in writing experimental comedy plays for Latenite Theatre and performing with his improv team Fruit Paunch. He knows he looks fourteen, please stop telling him that.
Kat Belinfante is a NYC based actor, comic, writer, and producer.  Ever since she was on Slime Time Live in the second grade, Kat new she loved the "lime" light. Growing up in Cumming, Georgia set the stage for her comedic timing befe Kat ventured west to earn her degree from USC and UCB in Los Angeles before coming back east to the Big Apple to study under Bill Esper at the William Esper Studio. After realizing she was funnier than most of the boys at her ex-boyfriend's open mics, Kat decided to give standup comedy a try and has been performing in NYC ever since. She runs a monthly standup show at the Lantern Comedy Club called "Too Much Hot Sauce" and has also performed in clubs and colleges around the country and internationally in Tel Aviv. Upcoming projects include an all female and non-binary identifying web series she co-created "Locker Room Talk" (debuted at the Big Apple Film Festival), a new sketch troupe coming to an instagram near you, and a short horror comedy she wrote and will act in this fall. When she's not living the creative life, you can catch her teaching hot yoga or buying new head bandanas from Madewell. 
Abby Washuta is a standup comic/writer and producer living and working in New York City. Her show "No, But What's Your Real Job?" runs regular to sold out rooms in clubs around the city. 
Joel Byars is the 2019 winner of Kenan Thompson's Comedy Experience and host of the award winning Hot Breath! Podcast. Beyond the stage, Joel has been a writer for Comedy Central, The Weather Channel, and even the author of his own book, "Finding Your Funny." Everyone of all ages is guaranteed to laugh and learn at a Joel Byars Show.
---