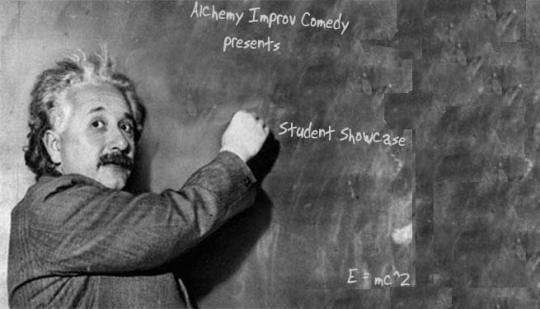 Student Showcase: Improv 201 (Patterns) and 301 (Games)
Saturday May 26, 2018 from 9:00 PM to 10:15 PM
After six weeks of class, the students in each level of the Alchemy Comedy Training Center get the chance to show off their skills on stage! Students in the first half of this show will use the skills they've learned in Alchemy's 201 class to improvise a variety of scenes. In the second half, students from Alchemy's 301 class will take the stage for a barrage of improvised games. Come out and support our training center and see if you have the chops to join us!
201 Student Showcase features AJ Laurie, Ashley Lambert, Conor McManamon, Matthew Bond, Raymond Ceballos, Sam Inman, and Tim Davis. Taught by Matt McAlister.
301 Student Showcase features Terri Marchbanks, Andrea Reeps, Bo Wallace, Veronica Schoell, Kenneth Hughes, Kim Carrol, Kim Harris, Mac Wallace, and Travis Matthew. Taught by Griffin Pafford and Erin Collins.