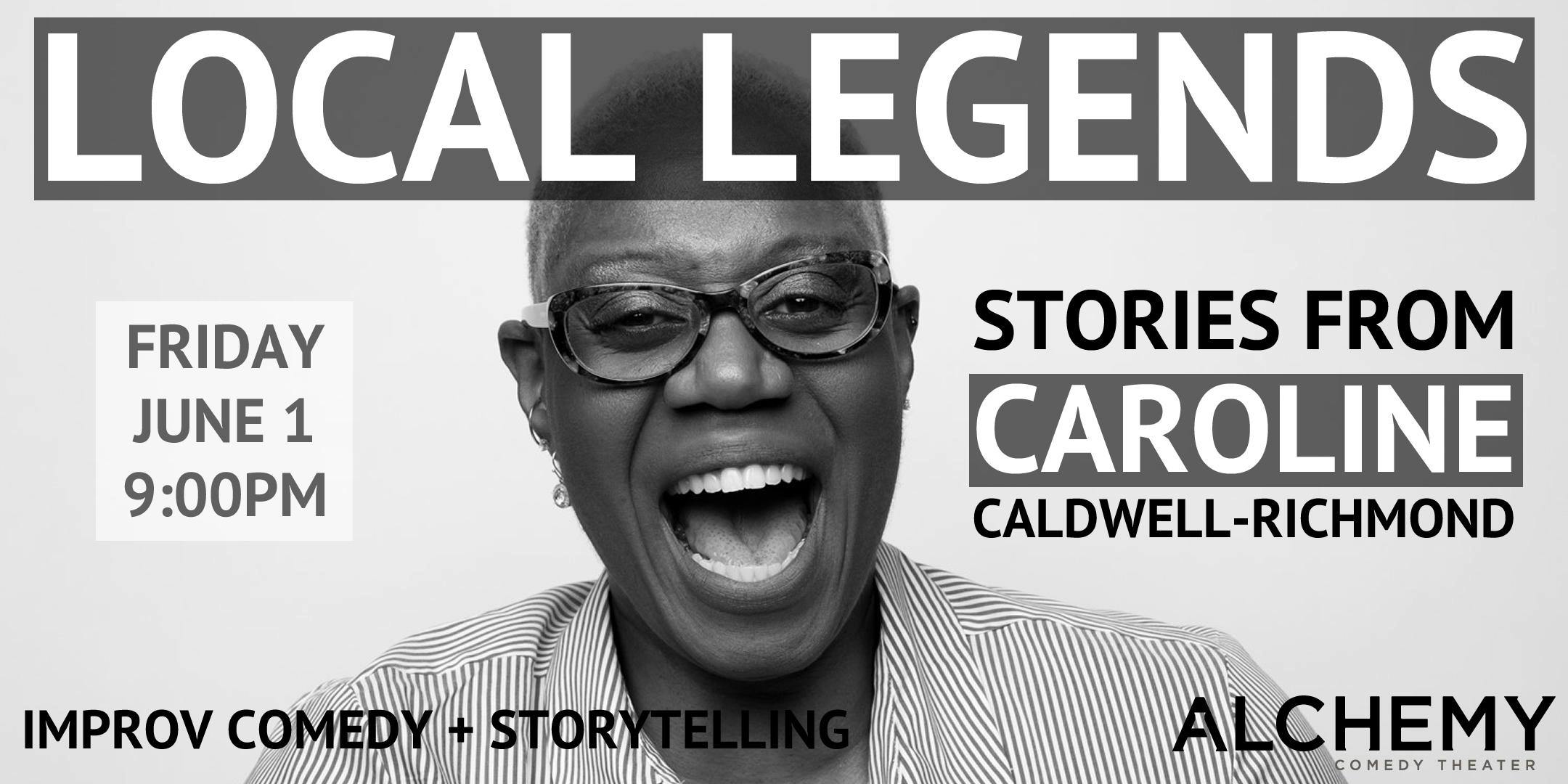 Local Legends: Improv Comedy Inspired by Caroline Caldwell-Richmond (New Mind Health and Care, TEDx Greenville Curator)
Friday June 1, 2018 from 9:00 PM to 10:15 PM
Local Legends is the Alchemy Comedy Theater's flagship weekly improv show. Every Friday night at 9:00pm, a different local legend (person of note) tells their own local legends (personal stories) to inspire this fully improvised show.
Tonight's show will feature stories from Caroline Caldwell-Richmond:
Caroline Caldwell-Richmond, PhD (ABD) is an advocate and believer of 2nd Chances! She is the founder and director of New Mind Health and Care a non-profit that provides free services to individuals, families and children affected by incarceration or criminal histories. The agency focuses on wholeness including economic stability, affordable housing, and wellness of mind and body. She has over 20 years experience as a clinical mental health therapist and 10 years experience as a Federal Officer for the United States Probation Office in New Jersey.
New Mind is currently piloting 3 programs for returning citizens: she is partnered with the Greenville PD on 2 focus deterrence programs, Safe Neighborhoods (adults) and GRAVITY (juveniles) to introduce behavior modification and wraparound services to participants to prevent recidivate behavior. New Mind has partnered with Greenville Tech to create the EMERGE initiate to focus on specific area training and career development for returning citizens which will include behavior modification and case management support.
Her agency has many community partners and is funded by the United Way of Greenville, TD Foundation, state and federal grantors. New Mind is contracted with United States Probation and Parole Office, SC Department of Probation Parole and Pardon, and the SC Department of Correction Intensive Supervision Office.
Caroline uses every platform she can to advocate for people affected by the criminal justice system and discrimination. She was a past TEDxGreenville speaker in 2014 and is the TEDxGreenville Curator for 2016 and 2017. She spearheaded the newly formed Greenville Reentry Coalition by bringing together 30 plus reentry service providers in our area. She is also helping Anderson County use the same model in building their coalition called Rebuilding Lives Coalition.
Caroline believes in giving back and serving her community and she does so through active commitment on many non-profit Boards. She is the Co-chair of the Economic Entity with Olive Branch Village Project which focuses on economic development and employment for people with a criminal history. She is the current Board President for Speaking Down Barriers an organization that addresses racial discrimination in the Upstate through multi-racial conversations, diversity, and engagement held monthly in Spartanburg and Greenville. She an Executive Board Chair with Upstate PRIDE and focuses on diversity and intersectionality of services to LGBTQ+ community. Caroline has also volunteered for the Speakers Bureau for the Julie Valentine Center, which services rape victims and children who were abused.