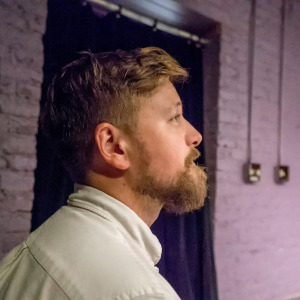 Instructor and Performer
Larry has been a member of Alchemy since 2014, and has performed with the Harold form team (Harry), the movie montage team (Homage), and the one long single scene team (Monolith). Larry has performed with the Haymaker and Local Legends flagship teams. 
Larry coached the Homage team and Deconstruction team Abraham. Most recently he helped direct The Alchemy Mainstage Holiday Special.
Prior to Alchemy, he performed with Clemson University's improv team, Mock Turtle Soup, for 6 years. Larry has performed at the North Carolina Comedy Arts Festival (NCCAF) in Chapel Hill NC, Black Box Theater in Atlanta GA (now defunct), Comedy Worxx Theater in Raleigh, NC. He performed in the 2007 College Improv Tournament.
In everyday life, Larry Simonson has 9 years of professional geotechnical and solid waste engineering consulting experience including experience with the design and construction of facilities across the eastern US. Working as a consultant with Bunnell-Lammons Engineering (BLE), Larry coordinates and performs a wide range of tasks associated with geotechnical analysis for the design and maintenance of landfills and their associated infrastructure. Larry has a technical specialty with slope stability analyses for landfill slopes, working with private and public landfill owners to analyze the design of new landfill slopes and perform forensic investigations of distressed and unstable landfill slopes. This has included 3D slope stability and numerical modeling for complex conditions.
Larry received undergraduate and Masters degrees in Civil Engineering from Clemson University.