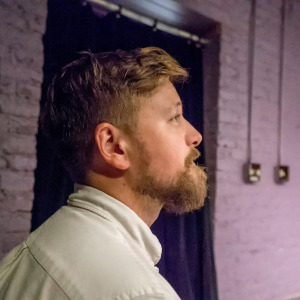 Instructor and Performer
Larry has been a member of Alchemy since 2014, and has performed with the Harold form team (Harry), the movie montage team (Homage), and the one long single scene team (Monolith). Larry has performed with the Haymaker and Local Legends flagship teams. He is currently an active performing member of Monolith and Local Legends.
Larry coached the Homage team in the fall of 2015, and has coached the members of the Abraham since the Fall of 2016.
Prior to Alchemy, he performed with Clemson University's improv team, Mock Turtle Soup, for 6 years.
Larry has performed at the North Carolina Comedy Arts Festival (NCCAF) in Chapel Hill NC, Black Box Theater in Atlanta GA (now defunct), Comedy Worxx Theater in Raleigh, NC. He performed in the 2007 College Improv Tournament.
In his everyday life, Larry works as a Professional Geotechnical Engineer at Bunnell-Lammons Engineering (BLE). He enjoys gardening, new food, new drink, coffee, sci-fi movies, and kittens.