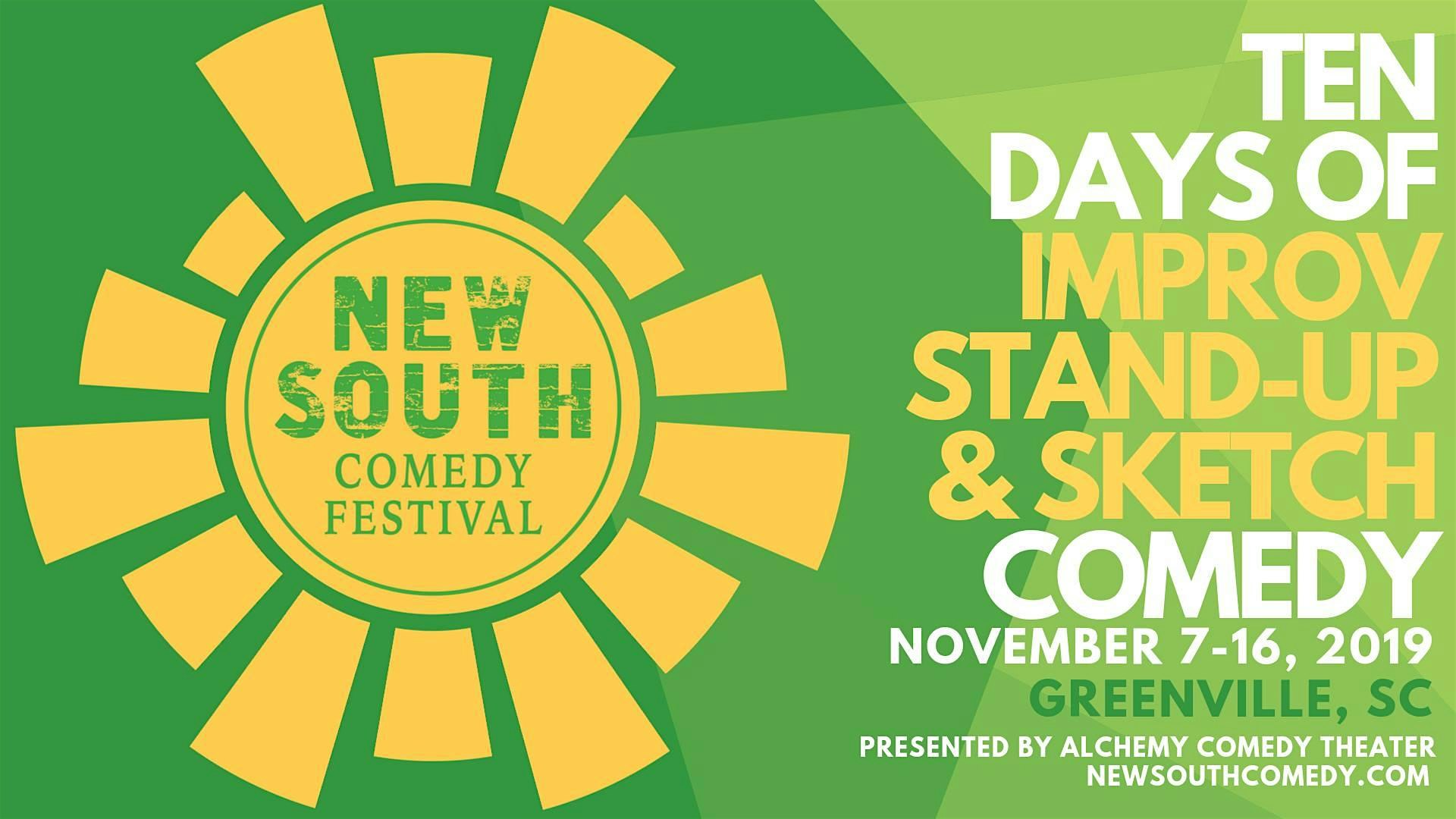 IMPROV COMEDY featuring Mouthband, Group Therapy, and Milk and Cookies
Saturday November 16, 2019 from 7:30 PM to 8:45 PM
New South Comedy Festival
10 days. 10 workshops. 24 shows. 250 performers! From November 7-16th, improvisors, stand-up comedians, and sketch comedy guests from across the country will converge on Greenville, SC for the 6th Annual New South Comedy Festival. 
Seating is limited, so it's always wise to pre-purchase your tickets online. All shows will be at the Alchemy Comedy Theater in downtown Greenville, SC. Street parking is available (if you're lucky), along with several nearby parking garages.
Comedy workshops will be held on Friday, Saturday, and Sunday on both weekends.


---
IMPROV COMEDY featuring Mouthband (Greenville, SC), Group Therapy (Atlanta, GA), and Milk and Cookies (Miami, FL)


If you've ever thought, "I'm enjoying this, but where's the singing?" then Mouthband is your golden ticket: an improvised a capella comedy musical! It's a triple-improvisation with players creating song, music, and scenes all on the spot.  Cast includes: Manus Clancy, Matt McAlister, Miley White, Lindsay Heyman, Kelsey Morse, Nathan Oulette, Joe Guy, Ruth Aronoff, and Brooke Johnston.
Born out of the Atlanta Improv Festival Battle in 2017, Group Therapy went on to shine at the Atlanta Improv League. All team members are on cast at Village Theatre in Atlanta, and are currently coached by Ibanez Downtain.

Group Therapy uses a creative opening to spawn a dynamic free form set. Most importantly, they are a group of funny people who like each other, and like making people laugh.  Cast includes: Jessica Vance, Caitlin King, Preethi Sundararaman, Ravikash Saini, James Joslin, and Sean Davis. 
Oscar Diaz and Rebecca Hernandez were born 6 months apart, grew up in the same neighborhood in Miami, shared the same experiences, went to the same rollerskating rink, worked at the same place at the same time, but didn't meet until they were "30 something" years old. Upon meeting, they discovered that Oscar is the male version of Rebecca and Rebecca is the female version of Oscar, WTF!!! As cookies are dunked in milk and become one, so does this duo's mind. Watch them live in the moment as they create diverse characters who will win your hearts, your laughs, and maybe your tears in Milk and Cookies. 



---