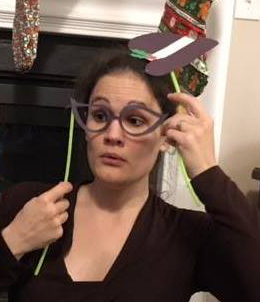 Performer
It was the year 1994 in the distant land of Indiana when Heather debuted her acting skills as Mouse #3 in her second grade class's rendition of "Cinderella." Her talents quickly moved past Mouse #3 to include such steamy roles as Mrs. Elton in "Emma" and Miss Minchin in "A Little Princess."
At 28, she grew tired of being freezing cold for five months of every year, and packed her bags for Greenville.
After experiencing hilariously awkward auditions in Greenville, Heather performed in Shakespeare in the Park's "The Two Gentlemen of Verona" and took as many Alchemy improv classes as she could. She has been a member of Alchemy since September 2014 and recently performed on Alchemy's improv team, Greenvillager.
As for her education, Heather has some of that. She graduated in professional writing from Taylor University Fort Wayne and, because she wanted to sound smart, got a masters in English from Indiana University. Her "adult jobs" involve teaching composition and literature at Spartanburg Community College. Her "fun job" includes publishing books, including "Stockholm Syndrome" and "The Big Red Boat" (both on Amazon).
To prove that life is all an improvised scene, Heather recently spawned the most adorable babies in the world. They are objectively perfect and usually know how to Yes/And.