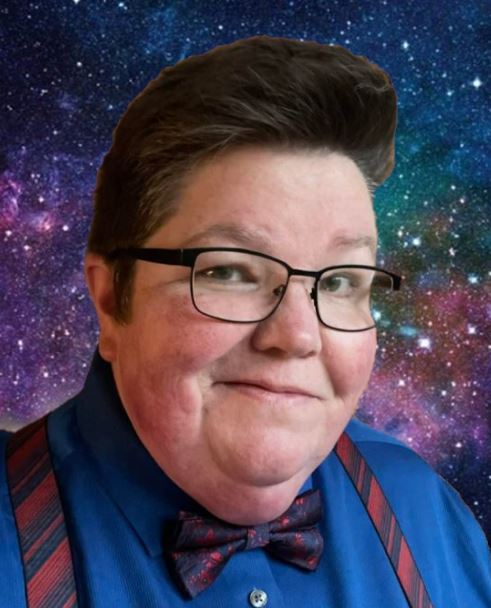 Performer
Bex Miller (they/them) has loved playing "Let's Pretend" since early childhood. Bex started acting in high school and fell in love with improv as an English and Theater major at Coker College. Bex has worked with several local theater companies, including Guerilla Shakespeare and Proud Mary theaters. Bex discovered Alchemy Comedy in the summer of 2019 and knew after seeing just one show that they wanted to join the theater.

Bex lives in Simpsonville and owns their own business, working as a Realtor all over the upstate. Their office, Servus Realty, is on Haywood Road here in Greenville. Bex shares their home with two cats and an absurd number of plants. They are also a writer and a musician, and love to cook. If you were going to trap Bex under a box propped up by a stick Wile E. Coyote style, you should definitely use garlic infused olive oil to reel them in. Bex is a superfan of Star Wars, Star Trek, Doctor Who, and the band Murder By Death. If you're bored and would like to lose an hour or two, please ask them to tell you why any of those things are so awesome.

If Bex could give you ONE piece of advice for your life, it would be to drink more water. If they're allowed two pieces of advice, they'll probably tell you about the importance of equity and protecting it with legal documentation to streamline the process of probate for your heirs after your inevitable death. And the third piece of advice, since we're just allowing them to dole out universal observations like some kind of human fortune cookie, would be to never, EVER get involved in a land war in Asia.

If you've read this far and haven't given up, you probably want to know that Bex can be found on Facebook, Instagram, Twitter and TikTok as @arethronok. Yes, it's a weird word, but unfortunately Bex hasn't shared with Alchemy what it means or where they learned it. We try not to think about it. Bex would love for you to follow or friend them on any or all of these platforms. They would also love to see your face in the Alchemy audience on Thursday, Friday or Saturday night!